Content
back to
Product Families

ENLIGHTEN YOUR COMFORT ZONE
INVADER
One look – boundless possibilities: With the INVADER spotlight – PROLICHT once again demonstrates the great flexibility of its range. INVADER is characterised by the ease with which it can be configured and tailored to any individual situation – its technical sophistication and its visual identity. Whether you're looking for a WALLWASH or a PENDANT for pleasant restaurant lighting – something to set a dramatic scene in a retail-store or a harmonious lighting solution for a comfortable home – INVADER is a bespoke solution for every demand.
NEW: INVADER COMPACT
SET ACCENTS IN A COMPACT FORMAT
INVADER plays with color - the parts of the luminaire can be individualized in our 25 PROLICHT colors to set specific accents and contrasts in the ceiling. With a universal 68mm cut-out the different variants can be exchanged in order to deliver illumination exactly where it is needed.
MINIMAL SIZE - HIGH OUTPUT
Despite its handy format, INVADER COMPACT delivers the high output needed to create exciting lighting sceneries. In its two new versions COMPACT and COMPACT ADJUSTABLE our INVADER demonstrates the great flexibility of its range. The ADJUSTABLE version is perfectly suited to direct light on specific highlights without the need for tools. For concrete installations, a special version was created to complete it universal application.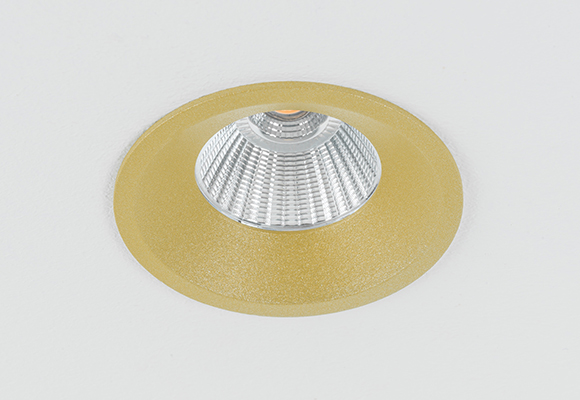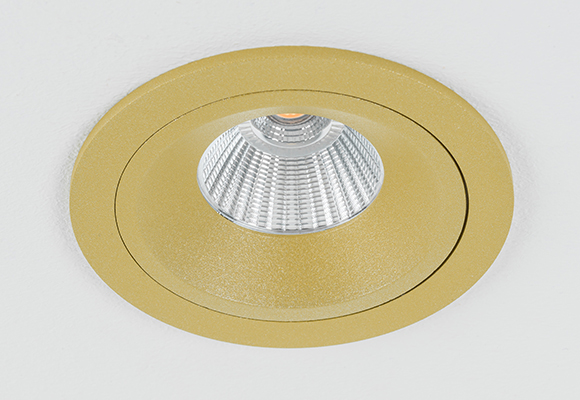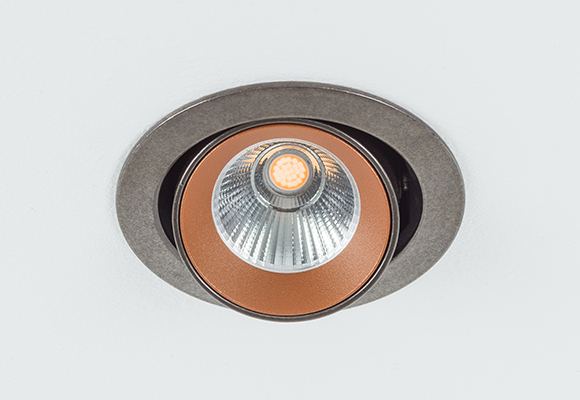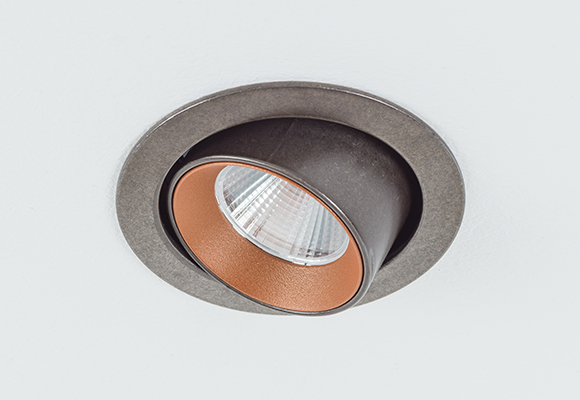 TECHNICAL DESCRIPTION
Limitless applications and award-winning design raise INVADER to the upper echelons of custom lighting. Its outstanding visual comfort is achieved by the KORONA CONE – customisable in 25 colors to create a unique appeal.
REFLECTOR | Integrated reflectors ( 18°/25°/40°) with an excellent efficiency and an uniform light distribution without spectral colour appearances.
HEAT SINK | A optimised heatsink allows a lumen package up to 2950 lm with only a diameter of 150 mm maximum. The low recessed depth is a big advantage in applications with limited space.
KORONA CONE | The cone of INVADER is available in different heights. It gets simply screwed into the trimless housing. The cone is available in all 25+5 PROLICHT colours.
EASY MOUNTING | Ceiling thickness can be set aside – thanks to the easy mounting system for INVADER randlos. It ensures a perfect seamless integration in the ceiling.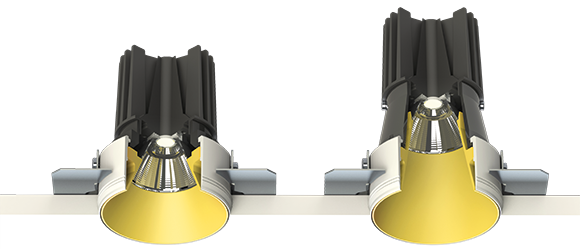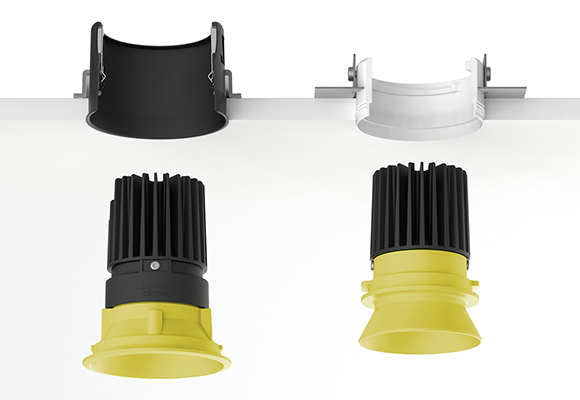 EASY MOUNTING
Easy installation and tool-free access to the driver for maintenance purposes, even in a trimless mount, were the aims during the design process. In case of a recessed INVADER 85, a mounting frame with a small trim enables easy removal of the entire fitting. A similar click system is available for trimless situations, without damaging the plastered ceiling.
ONE FAMILY - ENDLESS POSSIBILITIES
Whether FIXED, ADJUSTABLE, WALLWASH, WALL-MOUNTED or SUSPENDED, any INVADER variant can be used in demanding lighting designs, maintaining the same look. Different sizes (Ø40/75/85 and 150 mm) – trimless or recessed – and a range of fitting cone depths provide the best possible configuration solutions for residential applications, shops, hotels or restaurants.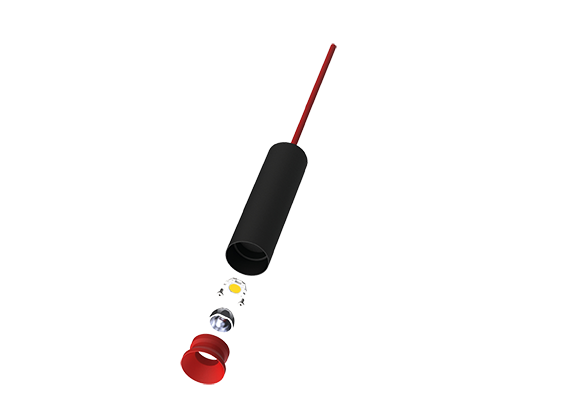 PROLICHT DNA
INVADER is characterised by the ease with which it can be configured and tailored to any individual situation. By selecting the colour of the outside and the cone, the LED colour temperature, the beam angle and even the colour of the suspended power feed cable – a unique product is born with the designer's personal touch. PROLICHT's unique DNA enables it to "make the difference", providing added value for designers.
KORONA CONE
The high precision – deep reflector directs the light effectively past the cone without changing the light colour. However – the coloured cone does alter the effect of the light. Simply switch on the lights for a real wow effect: the coloured cone reflects the light in such a way that it appears to be lit from within. The cone can be personalised in a range of colours. KORONA is also a perfect solution to match with the interior or for branding.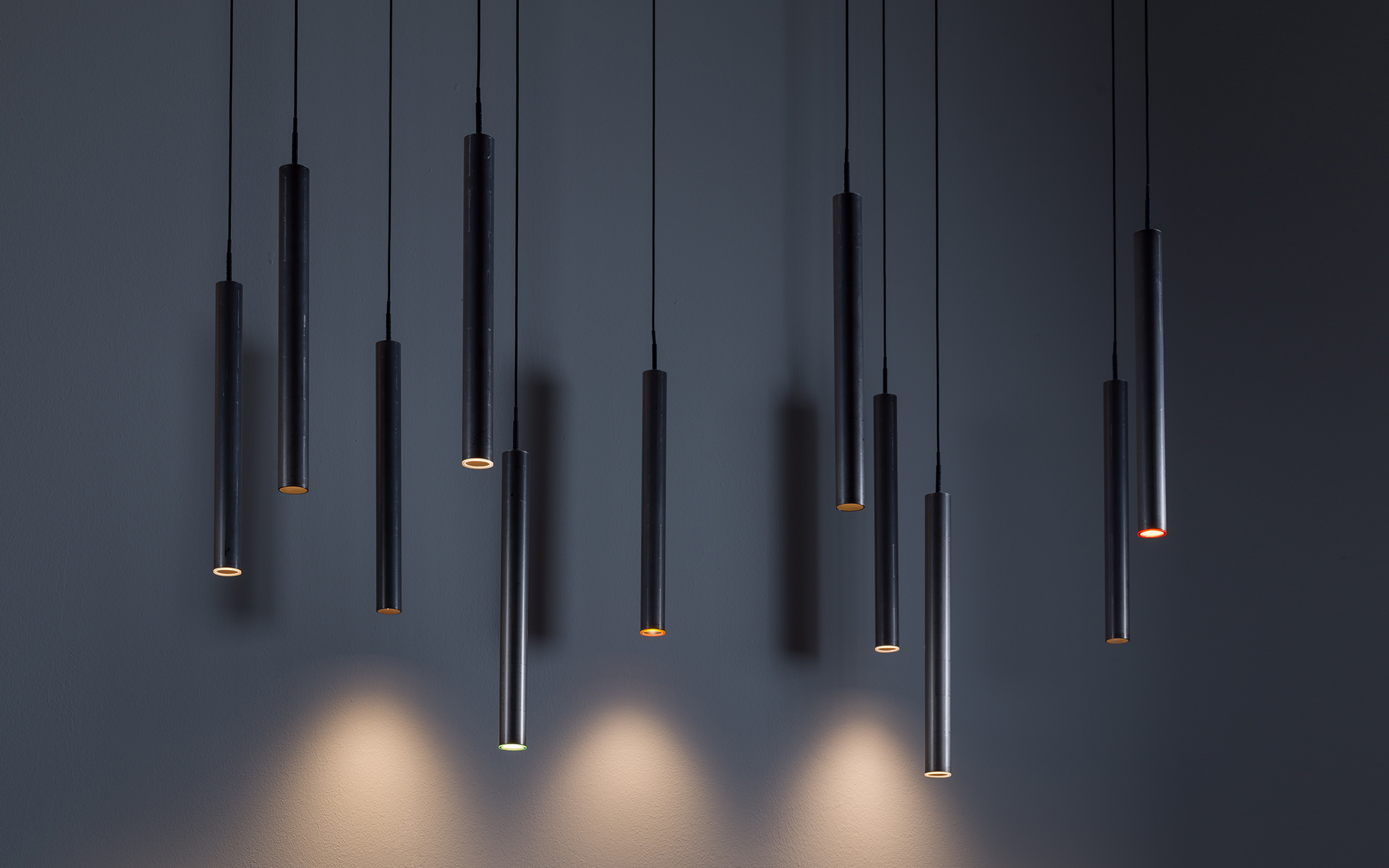 HANGOVER
The INVADER HANGOVER pendant luminaire is based on the latest reflector technology and offers multiple configuration options. Whether size, color, or LEDs, there are no limits to creating a customized design. It can be implemented in various tracks or as a stand-alone variant with canopy and is available with a GRAVITY LIFT option to shorten or lengthen its cable at will.
Product
INVADER
INVADER DEEP
INVADER ADJUSTABLE
INVADER COMPACT
INVADER COMPACT ADJUSTABLE
Mounting Option
Trimless
Trimless
Trimless
Trimless
Trimless
Dimension
Lumen
160 - 1063
160 - 986
770 - 990
804 - 1012
772 - 821
Watt
2.3 - 14.7
2.31 - 14.74
13.4 - 14.7
11.2 - 12
11.2 - 12
LED / CCT
2700K, 3000K, 4000K, NATURALDIM
2700K, 3000K, 4000K, NATURALDIM
Natural Dim, 2700K, 3000K, 4000K
2700K, 3000K, 3500K, 4000K, NATURALDIM
2700K, 3000K, 3500K, 4000K, NATURALDIM
Control

DALI Dim

depending
















Protection Rate

IP20

IP44

IP40
















Ceiling Thickness
10mm, 12.5mm, 15mm
10mm, 12.5mm, 15mm
10mm, 12.5mm, 15mm
10mm, 12.5mm, 15mm, 25mm
10mm, 12.5mm, 15mm, 25mm
Beamwidth

Superspot, Spot, Medium, Flood, Wideflood

Superspot, Spot, Medium, Flood, Wideflood

Superspot, Medium, Flood, Wideflood

Superspot, Medium, Wideflood

Superspot, Medium, Wideflood

Adjustability

swiveling

tilting

rotation















Product
INVADER
INVADER DEEP
INVADER ADJUSTABLE
INVADER WALLWASH
INVADER COMPACT
INVADER COMPACT CONCRETE
INVADER COMPACT ADJUSTABLE
HANGOVER PLUG FLAT
HANGOVER PLUG 30 SHINE FLAT
HANGOVER CLICKTRACK
INVADER COMPACT ADJUSTABLE CONCRETE
Mounting Option
Recessed
Recessed
Recessed
Recessed
Recessed
Recessed
Recessed
Suspended
Suspended
Missing_Product.Families.TechnicalData.Mounting.
Missing_Product.Families.TechnicalData.Mounting.
Recessed
Dimension
Lumen
160 - 2405
160 - 986
660 - 990
850 - 1080
804 - 1012
804 - 1012
772 - 821
782 - 857
389 - 446
857
0
772 - 821
Watt
2.3 - 25.94
2.31 - 14.74
6.8 - 14.7
13.4 - 14.7
11.2 - 12
11.2 - 12
11.2 - 12
9.8
6.46
9.8
0
11.2 - 12
LED / CCT
2700K, 3000K, 4000K, Natural Dim
2700K, 3000K, 4000K, NATURALDIM
2700K, 3000K, 4000K, Natural Dim
Natural Dim, 2700K, 3000K, 4000K
2700K, 3000K, 3500K, 4000K, NATURALDIM
2700K, 3000K, 3500K, 4000K, NATURALDIM
2700K, 3000K, 3500K, 4000K, NATURALDIM
2700K, 3000K, 4000K
2700K, 3000K, 4000K
2700K, 3000K, 4000K
2700K, 3000K, 3500K, 4000K, NATURALDIM
Control

DALI Dim

depending

Nicht dimmbar





































Protection Rate

IP20

IP44

IP65

IP40





































Beamwidth

Superspot, Spot, Medium, Flood, Wideflood

Superspot, Spot, Medium, Flood, Wideflood

Superspot, Medium, Flood, Wideflood

Superspot, Medium, Flood, Wideflood

Superspot, Medium, Wideflood

Superspot, Medium, Wideflood

Superspot, Medium, Wideflood

Superspot, Medium, Flood, Wideflood

Superspot, Medium, Flood, Wideflood

Superspot, Medium, Flood, Wideflood

-

Superspot, Medium, Wideflood

Adjustability

swiveling

tilting

rotation



































Product
INVADER ON
INVADER WALL
Mounting Option
Surface
Surface
Dimension
Lumen
670 - 770
390 - 1210
Watt
9.8 - 14.7
6.7 - 14.7
LED / CCT
2700K, 3000K, 4000K, Natural Dim
2700K, 3000K, 4000K, Natural Dim, 2700K / 2700K, 3000K / 3000K, 4000K / 4000K
Control

DALI Dim

Nicht dimmbar







Protection Rate

IP20







Beamwidth

Superspot, Medium, Flood, Wideflood

Superspot, Medium, Flood, Wideflood
Product
HANGOVER PLUG 30
HANGOVER PLUG 30 SHINE
HANGOVER
HANGOVER PLUG
Mounting Option
Suspended
Suspended
Suspended
Suspended
Dimension
Lumen
330 - 380
389 - 446
782 - 1516
782 - 857
Watt
6.4
6.46
9.8 - 20.02
9.8
LED / CCT
2700K, 3000K, 4000K
2700K, 3000K, 4000K
2700K, 3000K, 4000K
2700K, 3000K, 4000K
Control

Casambi

DALI Dim

Nicht dimmbar













Protection Rate

IP20













Beamwidth

Superspot, Medium

Superspot, Medium, Flood, Wideflood

Superspot, Medium, Flood, Wideflood

Superspot, Medium, Flood, Wideflood
;