Content

THE DEFINITIVE LIGHTING TOOL
Light, and so much more. A family designed for light, and for light only: minimal essence, perfect beams, high power. MAGIQ PRO offers a complete set of options with infi nite possibilities of confi guration, to become the ultimate light design tool.
everything you need!
Unique in every aspect - maximum design freedom with endless possibilities to configure every detail individually.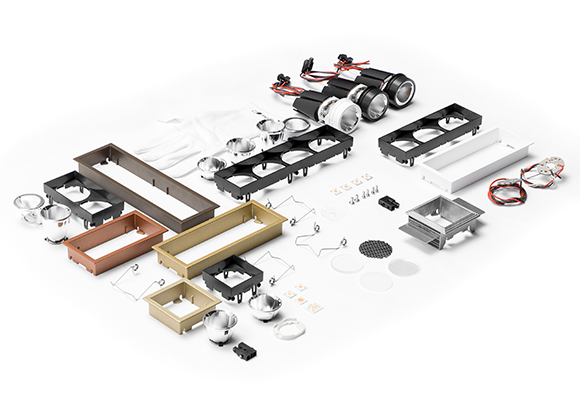 PREMIUM DOWNLIGHT OPTICS
The reflector technology of Bartenbach, combined with the optic body designed by PROLICHT, becomes a holistic solution to ensure perfect lighting in diverse projects: with a portfolio spreading from Superspot to ultra wide distribution modules, the MAGIQ PRO is the perfect tool for lighting designers.
tunable white
The optics can be equipped with 2700K, 3000K, 4000K or with an innovative Tunable White function that covers a range from 2700K to 6500K. In order to design unique light scenes, you have the complete freedom to combine modules with different light temperatures. These can be operated using a simple control system.
DUAL WALLWASH FUNCTION

The unique wallwash optic of the MAGIQ PRO has a
double function: it is designed for homogeneous light
distribution on vertical surfaces and at the same time for an excellent downlight effect on the floor.
By using several modules on the same luminaire, high lux values for excellent lighting levels on walls and fl oors can be achieved.
The HIDDEN SECRET FOR HIGH PERFORMANCE
The unique heatsink design optimizes the passive thermal management generating a continuous air flow that keeps the temperature down: this is the secret to achieve great performances in such a compact dimension.