Content
back to
Product Families

SIGN – classic illumination that sets new standards. The round, seamlessly welded surface lights make a discreetly elegant impression but set unique accents in any space. In playing with various sizes and classic or unconventional arrangements, SIGN becomes a formative architectural element. SIGN is available in a number of different sizes and it can be installed in ceilings using any mounting type from trimless, recessed, surface mounted to suspended. 

TECHNICAL DESCRIPTION
Pleasant general lighting with design options: the round SIGN luminaire is available in a range of sizes and colors, providing a discrete architectural accent.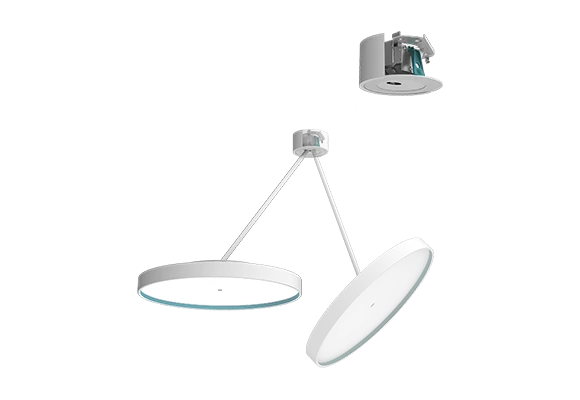 TOOL-FREE ADJUSTMENT | An ingeniuous patented adjustment system of the SIGN DIVA DANCER PLAY ensures a tool-free djustment in steps over 10°(range of +/- 50°). 
INTERNAL COVER | An internal cover ensures a continuous closure of the movement opening of the canopy during the rod adjustment. The light fitting itself is infinitely variable over 180° 
STEPLESS HINGE | A solid hinge with a precise friction system at the bottom of the road allows a stepless and tool-free adjustment over +/- 90° 
KORONA FRAME & KORONA SHINE | The inside of the KORONAA version with 51 mm height is available in 25 PROLICHT colors (KORONA FRAME). An optional coloured plexi ring can be added to the standard range of SIGN DIVA DANCER of 37 mm, to create an special glowing KORONA SHINE effect.
BENEFITS
Convincing benefits - standardized for all SIGN luminaires.
UNIQUE SPECIAL DECORATIVE OPTICS
The in-house designed PCB boards equipped with special LED-chips ensure enhanced light transmission and perfect illumination with the OPAL DIFFUSER. A bright, glare-free light with an optimum UGR value, provided by a special MICROPRISMATIC cover, is a perfect solution for workplaces. In addition to the opal diffuser and microprism, PROLICHT offers two new decorative diffusers: The SPARKLING SECRET (SPS) cover with its sophisticated special structure emphasises the sparkling effect of the LEDs and guarantees powerful light transmission, as well as offering a perfect solution for hospitality environments. The VINTAGE INDUSTRIAL (VI) diffuser with a honeycomb prismatic touch provides an enjoyable lighting effect that creates a different look depending on the angle from which you are looking.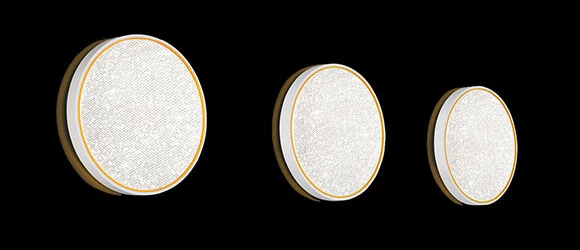 STEPLESS ADJUSTMENT SYSTEM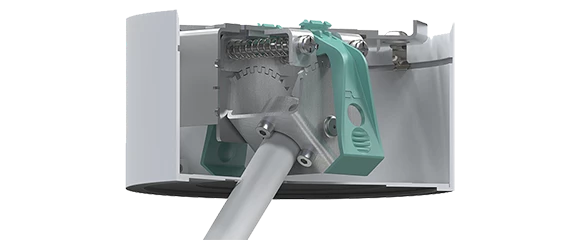 PLAYFUL SWIVELLING SYSTEM
The new innovative SIGN DIVA DANCER range with sophisticated technology and an flexible swivelling system allows the designer to play with eye-catching compositions on both the ceiling and walls. The range comes in different sizes and with an adjustable 750 mm or 1500 mm rod. The light fitting itself is infinitely variable over 180°, while with a patented ingenious system, tool-free adjustment of the rod (+/-50° in steps of 10°) results in playful scenarios (SIGN DIVA DANCER). An additional wire suspension is forseen for diameters of 850 mm onwards or a tube length of 1500 mm. Set the light where you need it!
KORONA EFFECT SHINE & FRAME
The idea for the KORONA feature came from a simple desire – to help designers create something unique for their project. A coloured transparent ring called the KORONA SHINE is lit up as a playful glowing element and is available in 6 colors (only fits the 37 mm height version). The KORONA FRAME is a second remarkable design element in which the diffuser is set back 15 mm into the light fitting, which illuminates the colored edges visible at the sides, producing a clear corona. The KORONA is available in 25+5 PROLICHT colors and has a height of 51 mm.

CENTRAL SUSPENSION DIFFERENT COLORED WIRES
Central suspension, different colored wires – The central suspension system allows the luminaire to subtly integrate into almost any interior. The power feed cable is available in 5 colors and offers a remarkable interplay of colors in combination with the color of the SIGN light source. During the design process, PROLICHT once again demonstrates its DNA, more specifically: eye-for-detail, making a difference and being unique. The suspension system is available as standard in 2 m and 6 m lengths.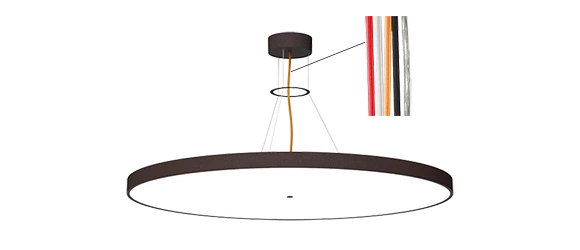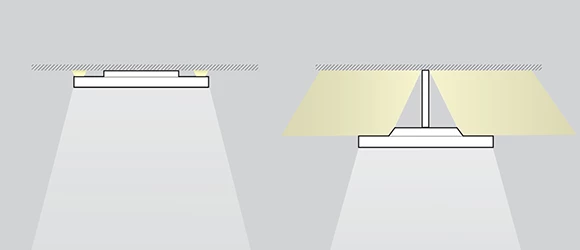 SOFT COLORFUL AURA INDIRECT LIGHTING
Well-defined openings at the top of the surface mounted SIGN series emphasise a decorative AURA light effect up towards the ceiling. The choice of 6 integrated colored diffusers (red, green, blue, yellow, orange, white) allows the architect the create a floating light effect. The PPMA-covered LED openings on the top plate are designed in such a way as to ensure perfect DIRECT/INDIRECT illumination (50%-50%) for additional emphasis of the ceiling.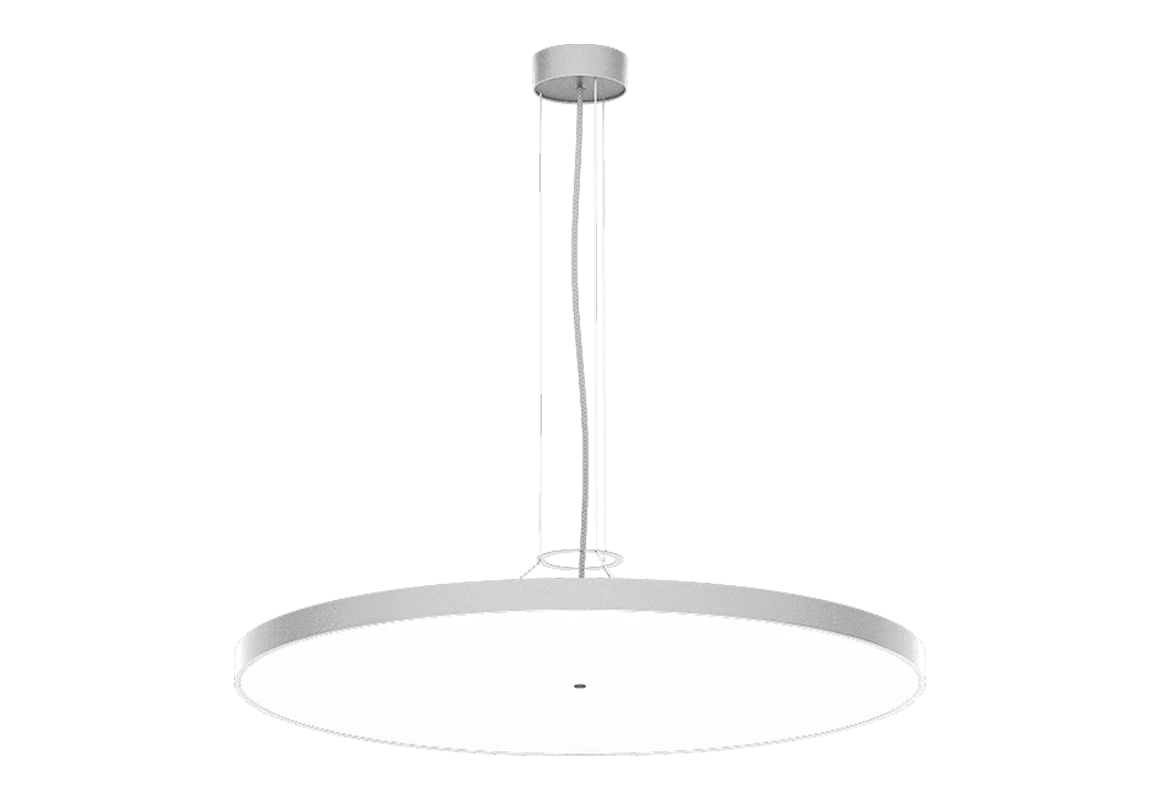 SIGN DIVA
The SIGN Diva pendant luminaire has a particularly narrow luminaire structure and allows an elegant use of a pendant luminaire even in low rooms. The luminaires are available with different diameters and optional lighting technology.
SIGN DIVA Flex
The SIGN Diva Flex luminaire is a pendant luminaire suspended vertically from a pipe with a flexibly swivelling luminaire head. The luminaire can be rotated 170° in both directions, as well as angled by 80° or 90°. It is available in 5 different luminaire sizes and 2 different tube lengths. With effective diffusers, Korona effects and many other selectable options, there are no limits to the creativity of individual configuration.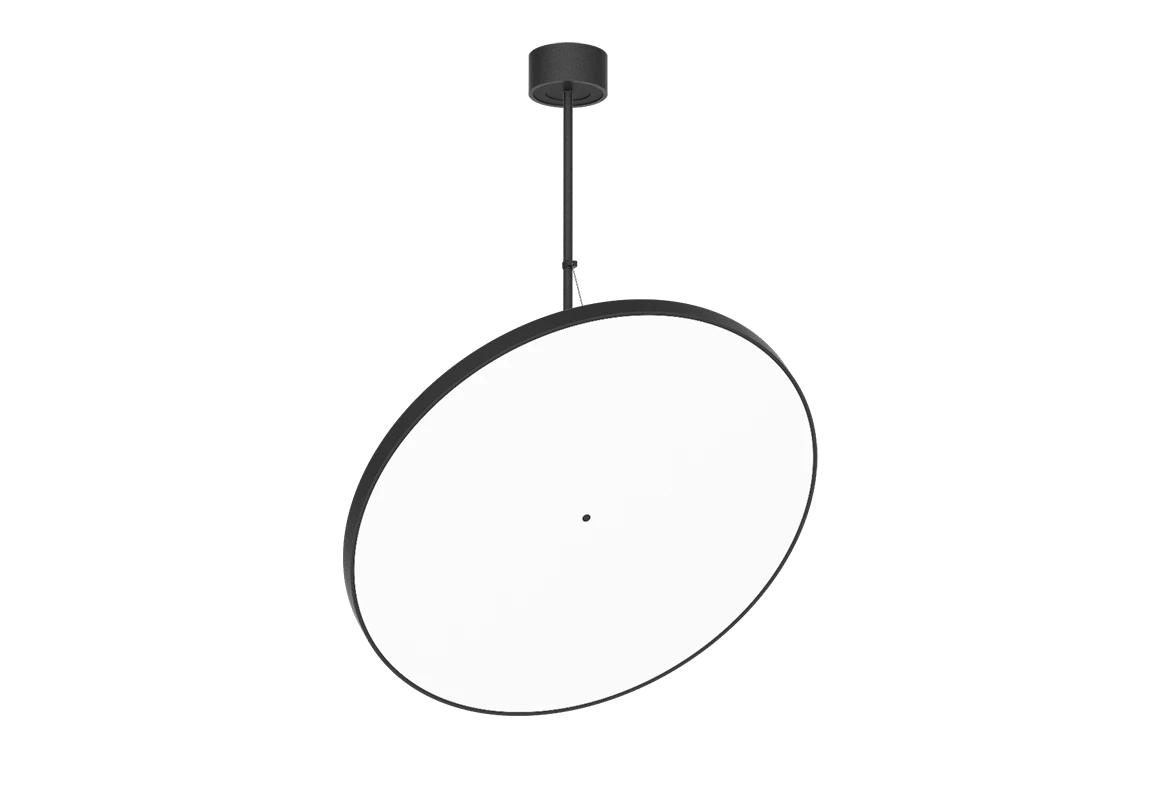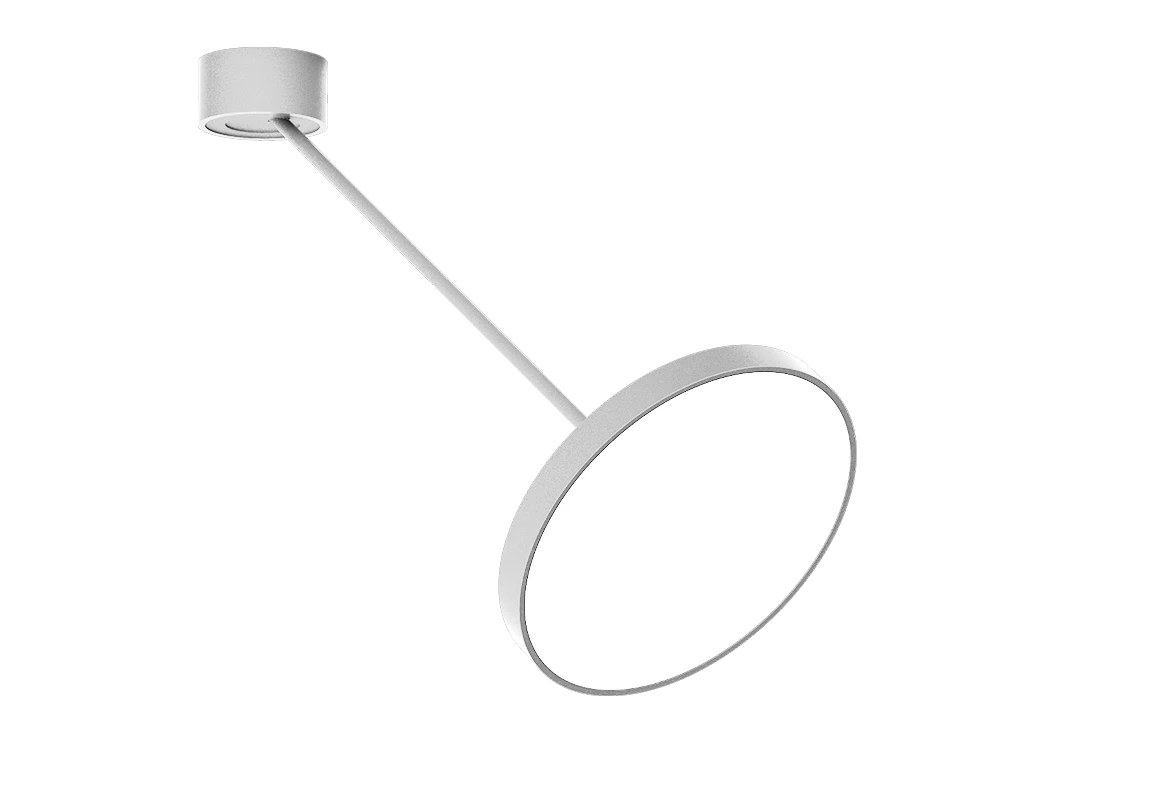 SIGN DIVA DANCER
The unique SIGN Diva Dancer surface light is a special pendant light with flexible appearance. The luminaire is infinitely rotatable through 180 °, the arm can be tilted by +/- 50 ° in increments of 10 and the luminaire head itself can be tilted +/- 90 °. These functions allow the luminaires to be adjusted to completely individual positions and can thus be adapted to a changing interior.
SIGN
The suspended variant of the SIGN surface light has an unobtrusive elegance and is an indispensable architectural element. The luminaires can be configured in one of the 25+5 PROLICHT colors and can be seamlessly integrated into any interior or used for targeted color contrasts.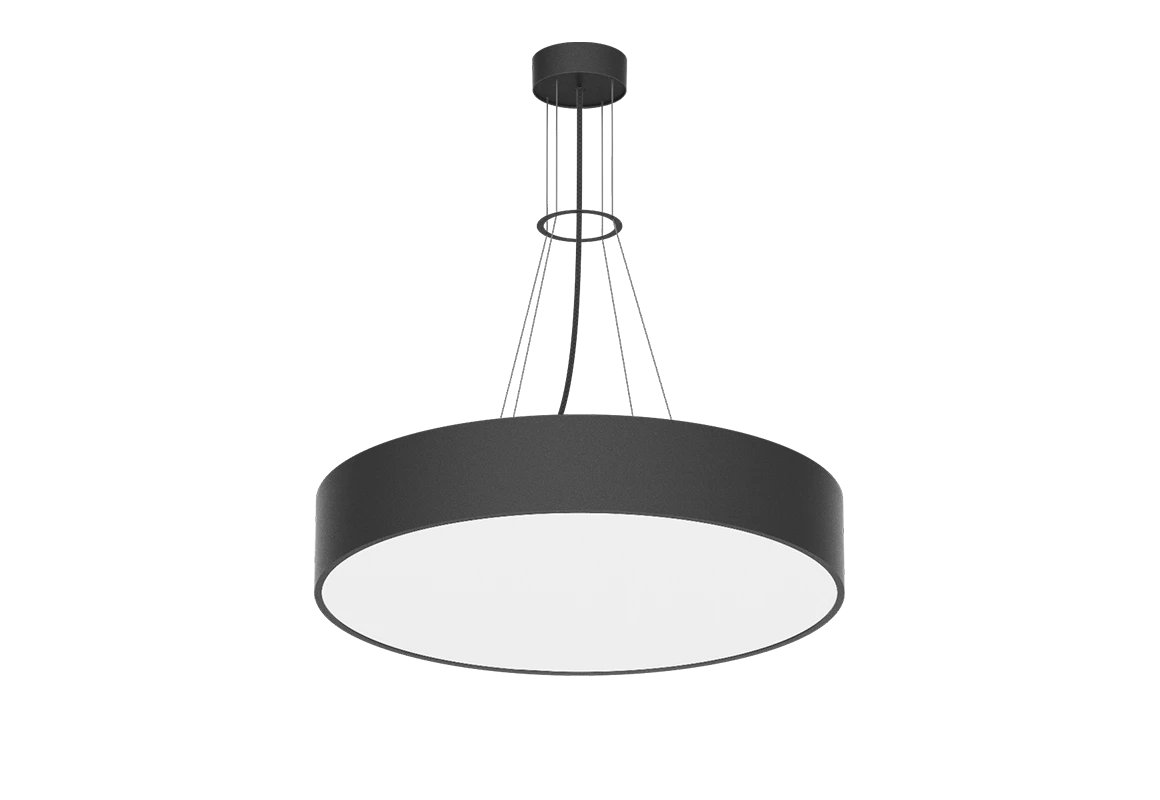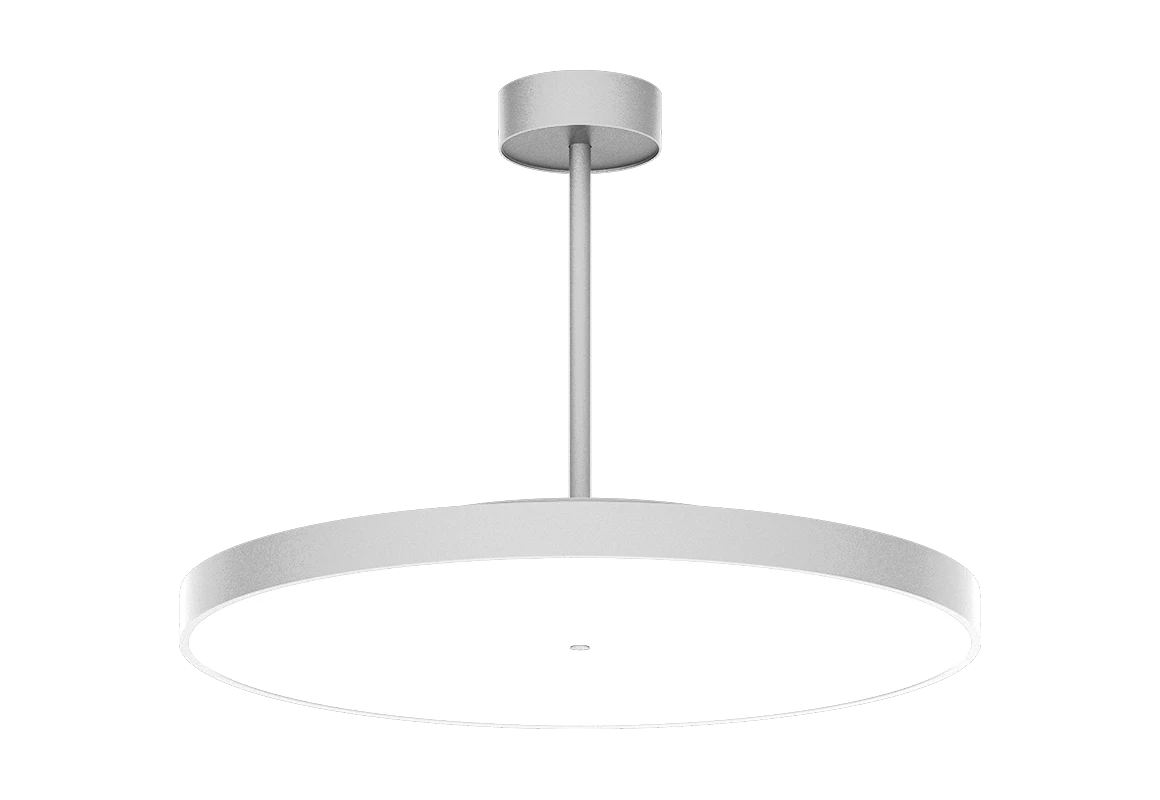 SIGN DIVA TUBE
The SIGN Diva Tube light is a special variant of the SIGN pendant lights. With a pole instead of a wire suspension, it is the perfect combination of efficiency and dynamics. An atmospheric interior design is emphasised by the slim design of this luminaire.

;