Content
back to
Product Families

NATURALLY TECHNICAL
BIONIQ
BIONIQ is pure technical ingenuity: The recessed LED spotlights can be turned and tilted to the desired position almost simultaneously using a concentric system. The EAS (Encapsulated Adjustment System) developed by PROLICHT allows 355° of rotation and 30° of tilt, without any externally visible change in position. The angle of the spotlight can be accurately adjusted. The fully encapsulated system prevents any rearward light scattering and places the beam of light precisely where you want it. Professional lighting can be managed effortlessly with BIONIQ.

TECHNICAL DESCRIPTION
Extremely easy handling, high light output and precise illumination make BIONIQ a favorite for lighting designers.
ONE LOCK SYSTEM | The ONE-LOCK system allows to lock the postion of the horizontal rotation and the vertical tilting with a single screw.
MOUNTING UNIT | The leaf springs of the mounting unit ensure an easy and permanent mounting in ceilings from 10 to 15 mm.
ENCAPSULATED ADJUSTMENT SYSTEM | BIONIQ can be adjusted precisely due to the Encapuslated Adjustment System.
PROLICHT LENS PACK | PROLICHT lights can be adapted to meet personal needs or challenging room situations in the best possible way. PROLICHT offers an efficient possibility to do so with lenses from the PROLICHT LENS PACK – filters or honeycomb.
COVER | Recessed spotlights ADJUSTABLE, PINHOLE or WALLWASH (Ø 130 only) of the same type (e.g. ROUND) use the same ceiling cut-out. These three variants can subsequently be used in every available cut-out.
DEEP | The DEEP version where the LED sits back 50 mm is mounted on a higher and special housing.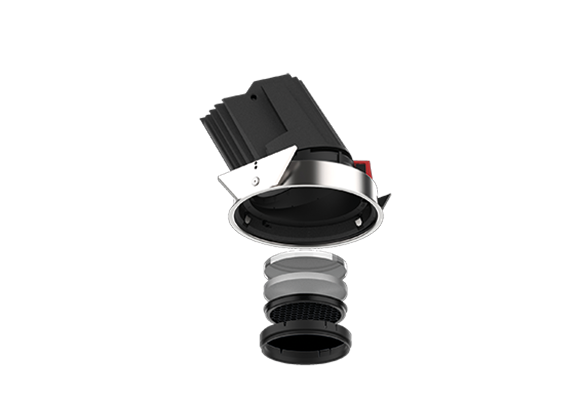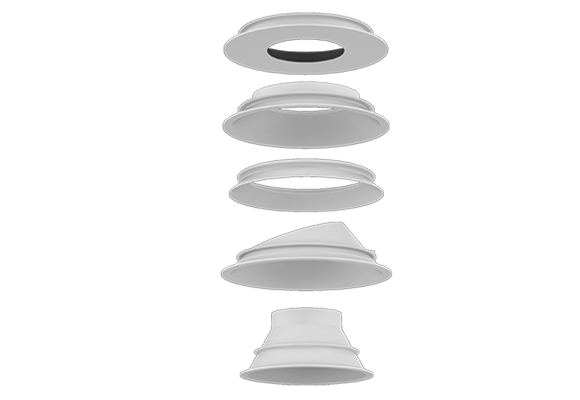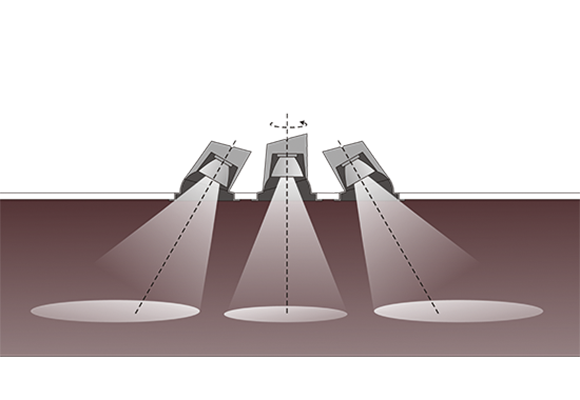 ENCAPSULATED ADJUSTMENT SYSTEM
The basic idea behind BIONIQ came from the lighting designer's simple desire to avoid losing light behind the pinhole cover during the adjustment process. This was only possible by moving the virtual tilting point below the ceiling. An intelligent EAS (encapsulated adjustment system) was the answer to this challenge. The system allows precise rotation of 355° and a tilt of 30° (adjustable) or 10° (semi adjustable).
ZERO LIGHT LEAKAGE
The light-proof back of selected PROLICHT spotlights ensures that the beam of light only falls exactly where it is positioned. Diffuse losses and unpleasant insights into the interior of the ceilings are a thing of the past. A major advantage for use in acoustic or perforated ceilings, or even shelves. BIONIQ spotlights are an ideal solution for perforated acoustic ceilings: There will be no unwanted glow of light through the ceiling openings with this clearly delineated, forward angled cone of light.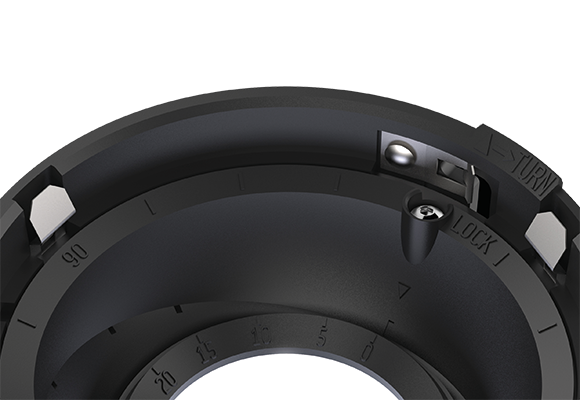 Precise Adjustment
Indicating a precise degree angle for each move-ment enables accurate light.
ONE LOCK
The ONE-LOCK system allows to lock the position of the horizontal rotation and the vertical tilting with a single screw – fast and efficient. A real plus in case of multiple spots. A single screw locks the positon of BIONIQ (rotation and tilt). The screw gets fastened from below which thightens the brown anchorage.

 

;