Content
back to
Product Families

THE SOUND OF LIGHT
ACOUSTIC LIGHTING
Excellent room acoustics and lighting adapted to individual needs are the basic requirements for an atmosphere in perfect harmony. For this reason, we have joined forces with IMPACT ACOUSTIC® from Switzerland to fuse our know-how in lighting technology with the most innovative producer of acoustic products. Together we develop acoustic luminaires that meet the highest requirements in the professional lighting sector, from offices to hospitality. 

Well-being in a room is one of the most important ingredients for successful working, enjoying or socializing. Two essential aspects of this are good lighting and good acoustics. Studies show that a quiet environment, especially in a professional setting, has a significant impact on increasing productivity and well-being. Too much noise can even be detrimental to health, causing stress, high heart rates and increased blood pressure. Impact Acoustic® products help to significantly improve the feeling in a room, without compromising the design. While the right light intensity or color temperature play a role in choosing the right luminaires, in acoustics there are two key principles to keep in mind: Absorption and Diffusion.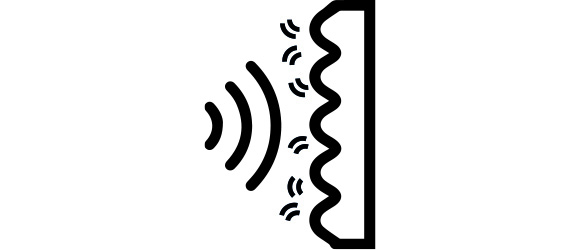 Sound behaves like other energy sources and 'travels' through space. When a sound wave hits a surface in a room, such as a wall, some of the sound is reflected and returned to the room and some is absorbed, depending on the nature of the surface. The higher the absorption coefficient of a material, the better it helps optimize the acoustics in the room. For example, the 24mm ARCHISONIC® material has an absorption coefficient of 75%.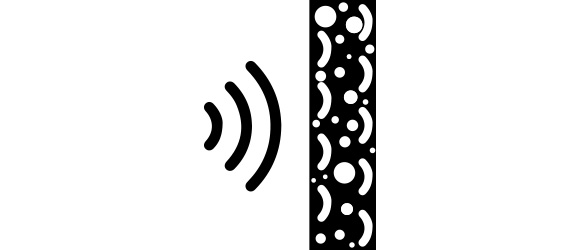 Sound diffusion refers to the degree of 'dispersion' of sound waves in a room. Those sound waves that are not absorbed by surfaces therefore travel in different directions through the room, creating unpleasant noise. The aim is to achieve the lowest possible diffusion values. To prevent this, acoustic ceiling sails with integrated lighting (for example BYSSO PRO, ORA PRO or TETRA PRO) can be placed directly above noise sources, such as workstations or meeting tables
COLORS MAKE A DIFFERENCE
Unique colors and finishes, with infinite combinations, enable a holistic interior design concept to be completed or certain highlights to be created. The 25 exclusive PROLICHT colors impress with their unique finish and are available without surcharge or extension of the delivery time. And because creativity at PROLICHT knows no limits, we can of course also manufacture your luminaire in any RAL Classic color on request.
NEW ARCHISONIC® COLORS
All of our uniquely acoustic luminaires are now configurable in four additional new colors. The ARCHISONIC® material is now additionally available in the colors: 920 JUTE, 107 LINEN , 918 DEEP SEA and 139 HONEYCOMB
Unique colors, which can be infinitely combined with the 25 PROLICHT colors, serve to harmoniously round off a holistic furnishing concept or to set special accents.


ARCHISONIC® - THE MATERIAL
The building sector is the largest single source of energy-related greenhouse gas emissions worldwide. Half of the energy used in the construction of new buildings is used to generate materials and products expended. Sustainable indoor acoustic products can be an easy first start to make a much-needed change. That is why IMPACT ACOUSTIC® developed ARCHISONIC®, probably the most flexible and high-performance acoustic material on the market. IMPACT ACOUSTIC® upcycles over 20 million bottles per year.

MATERIAL REUTILISATION:
ARCHISONIC® 12mm 53 pet bottles /m²
ARCHISONIC® 24mm 88 pet bottles /m²

;