When traditionally dimming classic or halogen bulbs, they change the colour temperature to a more reddish and warmer tone. This pleasant and cosy effect does not occur with standard- LED. Not corresponding to the power input, they keep the colour temperature on the same level.
For selected products PROLICHT uses a NATURAL DIM-Technology which recreates this dimming-effect. Thus this comfortable effect can be achieved even when using efficient LED. With reduced power input, the LED changes brightness and colour temperatur along to the Plank curve. Along this curve all colour temperatures are displayed accurately. The used LEDs keep their high CRI over the entire dimmable spectrum.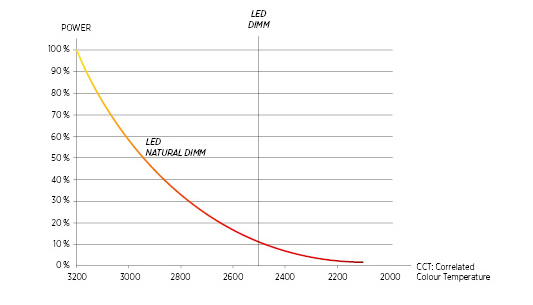 With reduced power input, the LED is changing brightness and colour temperature.